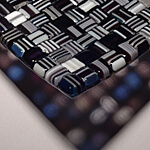 DC Art Glass
1322 Corcoran Street, NW
Washington, DC 20009
Thank you for visiting!
PURCHASES
Purchases may be made at scheduled shows and events, through galleries, or on-line at our new eCommerce website* (now open!):
For special orders or wholesale account inquiries, please use the contact form.
Note: Due to COVID-19, all kilnforming classes at the studio have been postponed until further notice.
To stay up-to-date on the latest events, classes and art glass designs, be sure to join the DC Art Glass email list. Simply fill out the contact form and click the button next to "Add me to the DCAG email list".
Where is the DC Art Glass Studio located on the map? Please see below.
*Delivery and curbside pickup available.